Zdroj:
Prague Business Journal
Číslo:
18/2000
Datum:
8. 5. 2000
Strana:
21
Autor:
Michael Stolarczyk
Foto:
Michal Ureš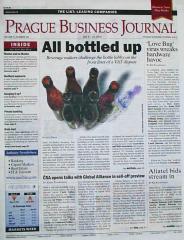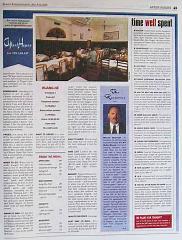 Huang He
ATMOSPHERE: One thing I've learned is not to judge a Chinese restaurant by its décor. Some of the best Chinese restaurants my wife and I went to when I was with Maersk in the back. Huang He – dark paneling, a few silk-screened prints, brown tablecloths overlaid by white tablecloths – is a typical looking Chinese restaurant. I like the newsrack in the restaurant lobby – in case you're kept waiting.
PRICES: For about Kč 1 100 ($35), two people can have a couple of beers, soda waters, appetizers, soup, two entrees fried rice, a special vegetable side dish, dessert and an afterdinner Mao Tai (the stupefying Chinese liquor that tastes like a combination of tequila, vodka and – garlic).
WHEN TO GO: When you're really hungry. It's hard to stop one or two things on this interesting menu, which includes a lot of hot and cold starters, some good fish and shrimp dishes, pork, beef, veal, lamb and chicken preparations as well as noodle dishes. There's even a child's menu and eight desserts, including an intriguing "flaming kiwi". We tried not to eat dessert, but failed (not the flaming kiwi, bud delicious fried bananas and fried apples in honey sauce with ice and whipped cream).
WHOM TO TAKE: If I had people in from the Far East, I would take them to Huang He. A Chinese restaurant isn't just a Chinese restaurant, and this one is just a 15-minute cab ride from our new offices in Smíchov – even in the middle of the day.
WHAT TO ORDER: For starters, the won top soup in a perfect, light broth. The won ton were firm and tasted fresh. Also, don't be put off by the English translation of "meatsacks" under hot starters; these dumplings (we ordered them steamed rather then baked) were really tasty and served with soy-sesame oil dipping sauce. The spring roll was one of the biggest I've ever seen a little tough to handle with chopsticks, but very good. The Kung Pao fish was so great, we pretty much ignored the also-good Sa Cha Tu Rou – rabbit in chili sauce. The stir-fried broccoli and white asparagus were also quite good, although a little light on the asparagus. The fried rice was outstanding; I almost asked for a second order.
WHAT TO AVOID: The hot and sour soup was too heavy on the beef, although it had the right tang.
WINE LIST: Looked like the usual combination of Czech wines, but I didn't pay much attention to it. With spicy Chinese food, Tsing Tao beer (Kč 58 each) is best anyway. They also offer Pilsner Urquell.
SERVICE: Typical Chinese service – a little brusque, but efficient. Dishes come out when they're ready – net necessarily when you are. So they're hot, and you should eat them. Our first waitress wandered away when she realized we were speaking English, and another came to take our order with many smiles and as many explanations as we required. Plus, they bring bowls instead of plates of eat from and that's the right way to eat Chinese food.
QUALITY FOR PRICE: Amazing.
NEXT TIME I'D HAVE… Probably one of the duck dishes; several looked really good, or one of the house special dishes. Or both.
The Reviewer
Michael Stolarczyk, 36, comes by his Chinese food expertise honestly. With A. P. Moller/Maersk, the Danish shipping company, since 1988, Mike and his wife Pam lived in Hong Kong from 1992–1994. He was Maersk's manager of international accounts. Having lunch or dinner with business clients, "you're forced to try a lot of local cuisine that you wouldn't try – maybe wouldn't even order or know order – under normal circumstances," Stolarczyk said. He grew fond of such oddities as minced pigeon – even rat – in a plum or pepper sauce, and on occasion was dubiously honored with the head if the fish or the duck. Stomach-churning moments aside, his appreciation for Chinese cooking grew enormously. "Pam and I still have specific cravings that can't be sated." Now Maersk's Czech Republic Country Manager, Stolarczyk has tried "maybe five or six" different Chinese restaurants in Prague – but none, he said, that compares to Huang He. –K. R.